Iztok and Maja, a couple which is facing crisis because of her jealousy. One day Iztok learns that a strange creature lives in an empty house.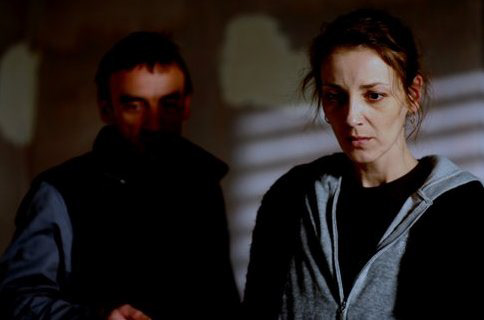 PRESS

"A Slice Of Life reveals Martin Turk as an author interested in the narration of personal emotions, dilemmas and issues. In his own words, he has recently been inspired by the relationship between men and women in their thirties. Certainly, his work doesn't assume the usual stance of direct storytelling but is shrouded in a distinguished film form. A slice of life, the best short film at the Festival of Slovenian Film 2006, is in such fashion a surreal love triangle that tells a familiar subject in a shocking, unusual way." Goran Vojnović, Ekran
"Director Martin Turk uses his camera well to make something pretty ordinary into something almost unbearably sinister. The film has a slow build and the fact that it is initially so grittily realistic makes the genre twist all the more creepy. Satisfyingly surreal." Amber Wilkinson, Eye for Film
FESTIVALS

9th Festival Of Slovenian Films – Portorož (Slovenia), (competition)
7th Festival Science + Fiction – Trieste (Italy), (competition)
19th Premiers Plans - Angers (France), (Competition)
35th Festiva International De Cine De Huesca (Spain)
22nd Cinema Jove – Valencia International Film Festival (Spain), (competition)
61st Edinburgh Film Festival (UK), (official selection)
13th Encounter Short Film Festival – Bristol (UK), (competition)
29th Festival International Du Cinema Mediteraneen Montpellier (France), (official selection)
15th Capalbio Cinema International Short Film Festival (Italy), (competition)
Grossmanov Festival Filma In Vina - Ljutomer (Slovenia), (competition)
4th Balcan Snapshots Film Festival - Amsterdam (Nietherland), (official selection)
AWARDS

Best Short Film - Festival Of Slovenian Films

Short fiction
Original title: Rezina življenja
Length: 15 min.
Format: 35mm, color
Ratio: 1,85:1

Speed: 25fps
Sound: Dolby Digital
Language: Slovenian
Year Of Production: 2006